British historian and prolific author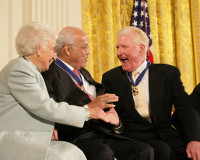 Paul Bede Johnson CBE (born 2 November 1928) is an English journalist, popular historian, speechwriter and author. While associated with the political left in his early career, he is now a conservative popular historian.
The introductory paragraph uses material from the Wikipedia article "Paul Johnson (writer)" as of 17 May 2018, which is released under the Creative Commons Attribution-Share-Alike License 3.0.