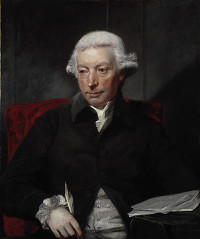 Adam Ferguson, FRSE, also known as Ferguson of Raith (1 July [20 June Julian] 1723 – 22 February 1816), was a Scottish philosopher and historian of the Scottish Enlightenment.
Ferguson was sympathetic to traditional societies, such as the Highlands, for producing courage and loyalty. He criticized commercial society as making men weak, dishonorable and unconcerned for their community. Ferguson has been called "the father of modern sociology" for his contributions to the early development of the discipline. His most well known work is his Essay on the History of Civil Society.
This article uses material from the Wikipedia article "Adam Ferguson" as of 03 Jul 2018, which is released under the Creative Commons Attribution-Share-Alike License 3.0.