The document that formed the United States of America
See also: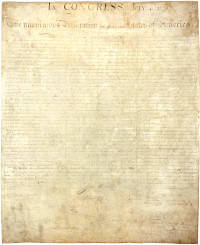 The United States Declaration of Independence is the statement adopted by the Second Continental Congress meeting at the Pennsylvania State House (now known as Independence Hall) in Philadelphia, Pennsylvania on 4 July 1776. The Declaration announced that the Thirteen Colonies at war with the Kingdom of Great Britain would regard themselves as thirteen independent sovereign states, no longer under British rule. With the Declaration, these new states took a collective first step toward forming the United States of America. The declaration was signed by representatives from New Hampshire, Massachusetts Bay, Rhode Island, Connecticut, New York, New Jersey, Pennsylvania, Maryland, Delaware, Virginia, North Carolina, South Carolina and Georgia.
The introductory paragraph uses material from the Wikipedia article "United States Declaration of Independence" as of 23 Oct 2018, which is released under the Creative Commons Attribution-Share-Alike License 3.0.