Eighteenth President of the United States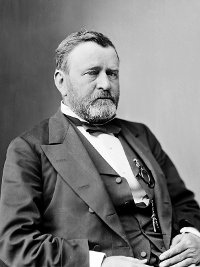 Ulysses Simpson Grant (born Hiram Ulysses Grant; 27 April 1822 – 23 July 1885) was an American soldier and statesman who served as Commanding General of the Army and President of the United States, the highest positions in the military and the government of the United States. A prominent United States Army general during the American War Between the States, Grant led the Union Army to victory over the Confederacy with the supervision of Abraham Lincoln. As the 18th President of the United States (1869-77) Grant led the Republicans in their efforts to remove the vestiges of Confederate nationalism and slavery during Reconstruction.
Born
Articles
Bureaucracy and the Civil Service in the United States
, by
Murray N. Rothbard
, The Journal of Libertarian Studies, 1995
Historical examination of the evolution of the United States Civil Service and attempts to reform it, from its beginnings through the early 20th century
The reformers looked forward with great expectations to the coming Presidency of General US Grant in early 1869. An indisputable Radical, General Grant was a military man, previously uncontaminated by politics, and not beholden to political machines ... Particularly active in scrambling for the spoils was ... George William Curtis ... responding to the Congressional rider and to charges of corruption in the New York Customhouse, President Grant surprised and delighted reformers in June by appointing a seven-man Civil Service Commission (CSC), with none other than Curtis as its chairman.
The introductory paragraph uses material from the Wikipedia article "Ulysses S. Grant" as of 29 May 2018, which is released under the Creative Commons Attribution-Share-Alike License 3.0.