Values the merit of each unique individual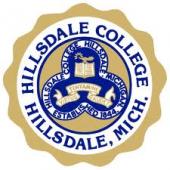 Hillsdale College is a private, conservative Christian college in Hillsdale, Michigan, United States. According to its website, its liberal arts curriculum is based on the Western heritage as a product of both the Greco-Roman culture and the Judeo-Christian tradition. Hillsdale requires every student, regardless of major, to complete a core curriculum that includes courses on the Great Books and the U.S. Constitution. The college declines to accept federal financial support, but depends heavily on donations from major donors.
The introductory paragraph uses material from the Wikipedia article "Hillsdale College" as of 14 May 2018, which is released under the Creative Commons Attribution-Share-Alike License 3.0.