German-American economist of the Austrian School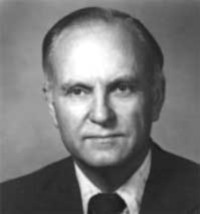 Hans F. Sennholz (3 February 1922 – 23 June 2007) was a German-born American Austrian School economist and prolific author who studied under Ludwig von Mises. A Luftwaffe pilot during World War II, he was shot down over North Africa on 31 August 1942, and spent the remainder of the war in a POW camp in the United States.
The introductory paragraph uses material from the Wikipedia article "Hans Sennholz" as of 12 Sep 2017, which is released under the Creative Commons Attribution-Share-Alike License 3.0.