1991 comedy movie about a psychiatrist and his patient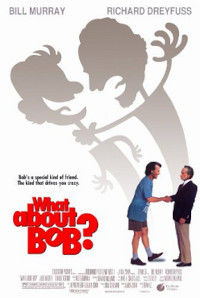 What About Bob? is a 1991 black comedy film directed by Frank Oz and starring Bill Murray and Richard Dreyfuss. Murray plays Bob Wiley, a psychiatric patient who follows his egotistical psychiatrist Dr. Leo Marvin (Dreyfuss) on vacation. When the unstable Bob befriends the other members of Marvin's family, it pushes the doctor over the edge.
The introductory paragraph uses material from the Wikipedia article "What About Bob?" as of 6 Oct 2018, which is released under the Creative Commons Attribution-Share-Alike License 3.0.