1956 western movie about a Confederate veteran searching for his niece who had been captured by the Comanches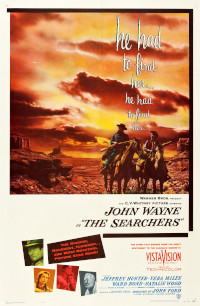 The Searchers is a 1956 American Technicolor VistaVision Western film directed by John Ford, based on the 1954 novel by Alan Le May, set during the Texas-Indian wars, and starring John Wayne as a middle-aged War Between the States veteran who spends years looking for his abducted niece (Natalie Wood), accompanied by his adoptive nephew (Jeffrey Hunter). Critic Roger Ebert found Wayne's character, Ethan Edwards, "one of the most compelling characters Ford and Wayne ever created".
The introductory paragraph uses material from the Wikipedia article "The Searchers" as of 23 Sep 2018, which is released under the Creative Commons Attribution-Share-Alike License 3.0.