1985 comedic film about a bureaucratic future, written and directed by Terry Gilliam
See also: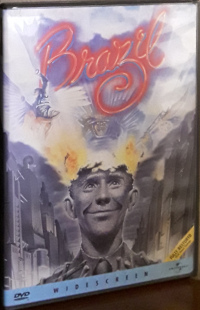 Brazil is a 1985 dystopian science fiction film directed by Terry Gilliam and written by Gilliam, Charles McKeown and Tom Stoppard. The film stars Jonathan Pryce and features Robert De Niro, Kim Greist, Michael Palin, Katherine Helmond, Bob Hoskins and Ian Holm. The film centers on Sam Lowry, a low-ranking bureaucrat trying to find a woman who appears in his dreams while he is working in a mind-numbing job and living in a small apartment, set in a dystopian world in which there is an over-reliance on poorly maintained (and rather whimsical) machines. Brazil's satire of technocracy, bureaucracy, hyper-surveillance, corporate statism and state capitalism is reminiscent of George Orwell's 1949 novel Nineteen Eighty-Four, and has been called Kafkaesque, as well as absurdist.
The introductory paragraph uses material from the Wikipedia article "Brazil (1985 film)" as of 16 Jan 2023, which is released under the Creative Commons Attribution-Share-Alike License 3.0.