1993 Oscar-winning movie about a German businessman who saved Polish Jews from Auschwitz
See also: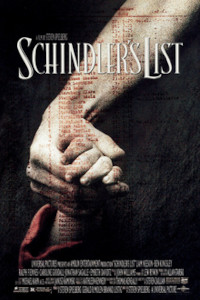 Schindler's List is a 1993 American historical period drama film directed and co-produced by Steven Spielberg and written by Steven Zaillian. It is based on the novel Schindler's Ark by Australian novelist Thomas Keneally. The film follows Oskar Schindler, a Sudeten German businessman, who saved the lives of more than a thousand mostly Polish-Jewish refugees from the Holocaust by employing them in his factories during World War II. It stars Liam Neeson as Schindler, Ralph Fiennes as SS officer Amon Göth and Ben Kingsley as Schindler's Jewish accountant Itzhak Stern.
Web Pages
Schindler's List (1993) - IMDb
Ratings: 8.9/10 ... Metascore: 93/100 ... In Poland during World War II, Oskar Schindler gradually becomes concerned for his Jewish workforce after witnessing their persecution by the Nazis.
Video Products
Schindler's List
, 9 Mar 2004
Schindler's List - Collector's Gift Set
, 9 Mar 2004
Includes
Schindler's List: Images of the Steven Spielberg Film
book
Schindler's List - Multiple Formats (1993), 5 Mar 2013
Articles
Freedom's Flicks: The 20 Best Libertarian Movies of all Time
, Nov 1999
The Orange County Register picks movies for "freedom lovers"
8. Schindler's List (1993). Probably the best dramatic depiction of the horrors of the Nazi extermination regime. Director Steven Spielberg avoids preachiness by showing a dramatic story of one 'righteous gentile' who helped save Jews from Auschwitz. Best libertarian moment: Oskar Schindler, played by Liam Neeson, is horseback riding near Krakow, Poland, and comes upon Nazis mistreating Jews and he realizes the Jews' humanity. From then on, he uses all his talents, resources, and cunning to save every person he can.
Related Topics:
Braveheart
,
Brazil
,
Casablanca
,
Duck Soup
,
Fahrenheit 451
,
The Fountainhead
,
Freedom's Flicks
,
The Godfather
,
Gone With the Wind
,
Invasion of the Body Snatchers
,
A Man for All Seasons
,
Network
,
Ninotchka
,
One Flew Over the Cuckoo's Nest
,
The Quiet Man
,
The Searchers
,
Sleeper
,
Star Wars
,
The Ten Commandments
,
What About Bob?
Those Awards
, by
Murray N. Rothbard
, The Rothbard-Rockwell Report, Jan 1994
Commentary about the Oscars, with negative remarks about Schindler's List, which Rothbard admits not seeing, and The Piano
Since I am not a professional movie critic I am not obliged to see what I know in advance I will dislike, so I haven't seen either Schindler's List or Philadelphia. Schindler's List is a movie which has become not only Politically Incorrect but even taboo to be less than worshipful about, since it purports to enable us, for the umpteenth time, to Learn About The Holocaust.
Reviews
Schindler's List (1993)
by Jon Osborne, Miss Liberty's Guide to Film and Video, 2001
Libertarian content: 4 (out of 5). Entertainment value: well above average.
... Schindler was, like most entrepreneurs, motivated by a desire to effect positive change. The positive change he ultimately brought about was to spare hundreds from the Holocaust. This is a good example of one person making a difference in the face of authoritarian rule and probably one of the few even marginally happy stories to come out of the Nazi period.
The introductory paragraph uses material from the Wikipedia article "Schindler's List" as of 31 Jul 2018, which is released under the Creative Commons Attribution-Share-Alike License 3.0.