1976 movie, famous for the line "I'm mad as hell, and I'm not going to take it anymore"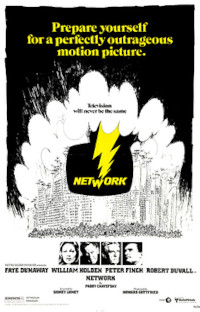 Network is a 1976 American satirical film written by Paddy Chayefsky and directed by Sidney Lumet, about a fictional television network, UBS, and its struggle with poor ratings. The film stars Faye Dunaway, William Holden, Peter Finch and Robert Duvall and features Wesley Addy, Ned Beatty and Beatrice Straight. The film won four Academy Awards, in the categories of Best Actor (Finch), Best Actress (Dunaway), Best Supporting Actress (Straight) and Best Original Screenplay (Chayefsky).
The introductory paragraph uses material from the Wikipedia article "Network (1976 film)" as of 24 Sep 2018, which is released under the Creative Commons Attribution-Share-Alike License 3.0.