Professor of economics at the University of Chicago, 1992 Nobel Prize winner in Economics
See also: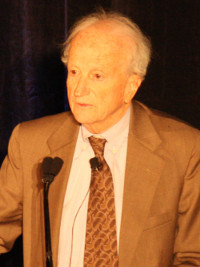 Gary Stanley Becker (2 December 1930 – 3 May 2014)[1] was an American economist and empiricist. He was a professor of economics and sociology at the University of Chicago. Described as "the most important social scientist in the past 50 years" by The New York Times, Becker was awarded the Nobel Memorial Prize in Economic Sciences in 1992 and received the United States Presidential Medal of Freedom in 2007. A 2011 survey of economics professors named Becker their favorite living economist over the age of 60, followed by Ken Arrow and Robert Solow.
The introductory paragraph uses material from the Wikipedia article "Gary Becker" as of 07 Aug 2018, which is released under the Creative Commons Attribution-Share-Alike License 3.0.