Eighteenth century Scottish economist, author of The Wealth of Nations
See also: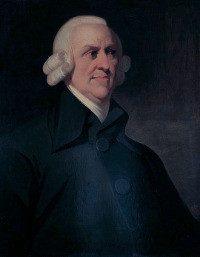 Adam Smith (c. 16 June 1723 N.S. (c. 5 June 1723 O.S.) – 17 July 1790) was a Scottish economist, philosopher and author as well a moral philosopher, a pioneer of political economy and a key figure during the Scottish Enlightenment era. Smith is best known for two classic works: An Inquiry into the Nature and Causes of the Wealth of Nations (1776) and The Theory of Moral Sentiments (1759). The former, usually abbreviated as The Wealth of Nations, is considered his magnum opus and the first modern work of economics.
The introductory paragraph uses material from the Wikipedia article "Adam Smith" as of 17 Jul 2018, which is released under the Creative Commons Attribution-Share-Alike License 3.0.