Co-founder and CEO of Cypress Semiconductor Corp.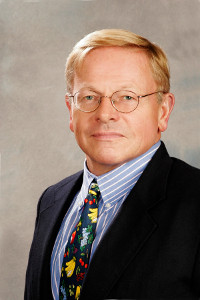 Thurman John "T. J." Rodgers (born 15 March 1948) is an American scientist and entrepreneur. He is the founder of Cypress Semiconductor and holds patents ranging from semiconductors to energy to winemaking. Rodgers is known for his public relations acumen, brash personality and strong advocacy of laissez-faire capitalism. He stepped down as Cypress CEO in April 2016 and Director in August 2016 after serving for 34 years.
Web Pages
Advocates for Self-Government - Libertarian Education: T.J. Rodgers - Libertarian
, by Bill Winter
Includes picture, biographical profile and quotes
"In fact, Rodgers is one of Silicon Valley's highest-profile libertarians — and often uses that word to describe himself. Sometimes he uses it twice. 'I'm a libertarian-libertarian,' he said in a May 2001 interview on San Jose Public Television station KTEH, after the host suggested that Rodgers was a 'conservative-libertarian.' Rodgers continued, 'There's some parts of what conservatives like that I like. For example, their like of a small government and no taxes. And with regard to liberals, I share some common ground with them. You know, be who you want to be, do what you want to do — and I believe in that.'"
Articles
Party makes bid for Silicon Valley support
, Libertarian Party News, Jan 1999
Describes the visit by LP leaders and other libertarians to a Cato Institute conference in Silicon Valley
"Libertarian Party leaders ... attended 'Washington, DC vs. Silicon Valley: The Annual Cato Institute/Forbes ASAP Conference on Technology & Society,' which was held in San Jose, California, November 19-21. The conference attracted a flock of high-tech executives, research professionals, politicians, and authors -- including T. J. Rodgers (president and CEO of Cypress Semiconductor) ..."
T. J. Rodgers - Hero of the Day
, The Daily Objectivist, 2000
"Silicon Valley is often taken as a symbol of capitalism at its best. But the denizens of that sandy expanse too often disappoint by their reluctance to advocate openly the open market ... Then there's T.J Rodgers. Founder and CEO of Cypress Semiconductors, Rodgers is famous for his outspoken support of the untrammeled market—and of the producer's unqualified right to profit from it. Rodgers has testified in Congress against government subsidies of the computer business. He has argued against restricting legal immigration. He has fought against anti-trust laws and for the rights and freedom of Microsoft."
The introductory paragraph uses material from the Wikipedia article "T. J. Rodgers" as of 25 Jun 2018, which is released under the Creative Commons Attribution-Share-Alike License 3.0.