Co-founder and CEO of Cypress Semiconductor Corp.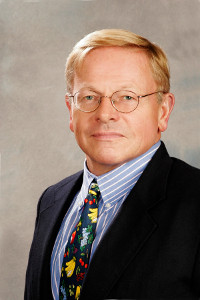 Thurman John "T. J." Rodgers (born 15 March 1948) is an American scientist and entrepreneur. He is the founder of Cypress Semiconductor and holds patents ranging from semiconductors to energy to winemaking. Rodgers is known for his public relations acumen, brash personality and strong advocacy of laissez-faire capitalism. He stepped down as Cypress CEO in April 2016 and Director in August 2016 after serving for 34 years.
The introductory paragraph uses material from the Wikipedia article "T. J. Rodgers" as of 25 Jun 2018, which is released under the Creative Commons Attribution-Share-Alike License 3.0.