Founder with George Soros of the Quantum Fund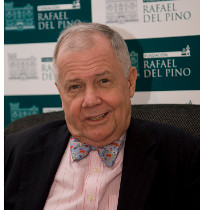 James Beeland Rogers Jr. (born 19 October 1942) is an American businessman, investor, traveler, financial commentator and author based in Singapore. Rogers is the Chairman of Rogers Holdings and Beeland Interests, Inc. He was the co-founder of the Quantum Fund and creator of the Rogers International Commodities Index (RICI).
The introductory paragraph uses material from the Wikipedia article "Jim Rogers" as of 11 May 2018, which is released under the Creative Commons Attribution-Share-Alike License 3.0.