Author of the Virginia Declaration of Rights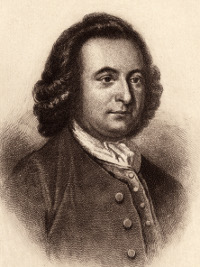 George Mason (sometimes referred to as George Mason IV; 11 December 1725 [30 November 1725 O.S.] – 7 October 1792) was a Virginia planter, politician and delegate to the U.S. Constitutional Convention of 1787, one of three delegates, together with fellow Virginian Edmund Randolph and Elbridge Gerry of Massachusetts, who refused to sign the Constitution. His writings, including substantial portions of the Fairfax Resolves of 1774, the Virginia Declaration of Rights of 1776 and his Objections to this Constitution of Government (1787) in opposition to ratification, have exercised a significant influence on American political thought and events. The Virginia Declaration of Rights, which Mason principally authored, served as a basis for the United States Bill of Rights, of which he has been deemed the father.
The introductory paragraph uses material from the Wikipedia article "George Mason" as of 1 Aug 2018, which is released under the Creative Commons Attribution-Share-Alike License 3.0.