Two Nobel laureates in Economic Sciences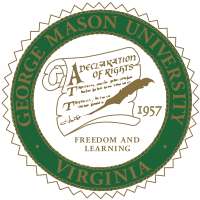 George Mason University (GMU, Mason or George Mason) is a public research university in Fairfax County, Virginia. Initially founded as a branch of the University of Virginia in 1949, it became an independent institution in 1972. The university is named after the founding father George Mason, a Virginia planter and politician who, most notably, authored the Virginia Declaration of Rights, the basis for the U.S. Bill of Rights. Mason currently operates four campuses located in Virginia, the main campus being in Fairfax, with a fifth campus in Songdo, South Korea, inside the Incheon Free Economic Zone. Three of the four Virginia campuses are within Northern Virginia, part of the Washington, D.C. metropolitan area. The university recognizes 500 student groups as well as 41 fraternities and sororities. In 2016, the Carnegie Classification of Institutions of Higher Education released new listings that included George Mason in the "Highest Research Activity" (R1) category.
The introductory paragraph uses material from the Wikipedia article "George Mason University" as of 4 Jun 2018, which is released under the Creative Commons Attribution-Share-Alike License 3.0.