American revolutionary figure, famous for "Give me liberty or give me death" speech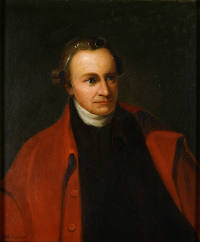 Patrick Henry (29 May 1736 – 6 June 1799) was an American attorney, planter, and orator well known for his declaration to the Second Virginia Convention (1775): "Give me liberty, or give me death!" A Founding Father, he served as the first and sixth post-colonial Governor of Virginia, from 1776 to 1779 and from 1784 to 1786.
The introductory paragraph uses material from the Wikipedia article "Patrick Henry" as of 7 May 2018, which is released under the Creative Commons Attribution-Share-Alike License 3.0.