American anarchist writer, lecturer and activist
See also: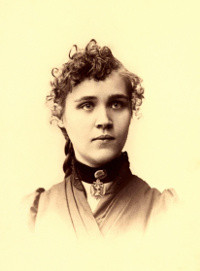 Voltairine de Cleyre (17 November 1866 – 20 June 1912) was an American anarchist, known for being a prolific writer and speaker, and opposing state capitalism, the state itself, marriage and the domination of religion over sexuality and women's lives. She began her activist career in the freethought movement. De Cleyre was initially drawn to individualist anarchism but evolved through mutualism to an "anarchism without adjectives", prioritizing a stateless society without the use of force above all else. She was a contemporary of Emma Goldman, with whom she maintained a relationship of respectful disagreement on many issues. Many of her essays were in the Selected Works of Voltairine de Cleyre, published posthumously by Mother Earth in 1914.
The introductory paragraph uses material from the Wikipedia article "Voltairine de Cleyre" as of 16 Jul 2018, which is released under the Creative Commons Attribution-Share-Alike License 3.0.