Politics scholar at New York University, editor of The Journal of Ayn Rand Studies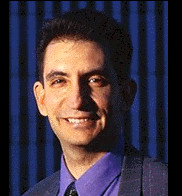 Chris Matthew Sciabarra (born 17 February 1960) is an American political theorist based in Brooklyn, New York. He is the author of three scholarly books—Marx, Hayek, and Utopia, Ayn Rand: The Russian Radical and Total Freedom: Toward a Dialectical Libertarianism—as well as several shorter works. He is also the co-editor, with Mimi Reisel Gladstein, of Feminist Interpretations of Ayn Rand. His work has focused on topics including Objectivism, libertarianism (particularly the work of Friedrich Hayek and Murray Rothbard) and dialectics.
The introductory paragraph uses material from the Wikipedia article "Chris Matthew Sciabarra" as of 30 Nov 2017, which is released under the Creative Commons Attribution-Share-Alike License 3.0.