Thirty-ninth President of the United States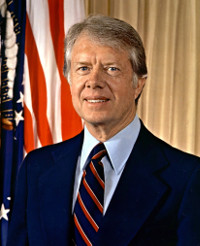 James Earl Carter Jr. (born 1 October 1924) is an American politician who served as the 39th president of the United States from 1977 to 1981. He previously was the 76th Governor of Georgia from 1971 to 1975, after two terms in the Georgia State Senate from 1963 to 1967. Carter has remained active in public life during his post-presidency, and in 2002 he was awarded the Nobel Peace Prize.
The introductory paragraph uses material from the Wikipedia article "Jimmy Carter" as of 22 May 2018, which is released under the Creative Commons Attribution-Share-Alike License 3.0.