United States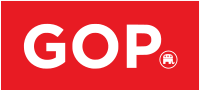 The Republican Party, commonly referred to as the GOP (abbreviation for Grand Old Party), is one of the two major political parties in the United States, the other being its historic rival, the Democratic Party. The party is named after republicanism, a major ideology of the American Revolution. Founded by anti-slavery activists, economic modernizers, ex National Republicans, ex Free Soilers and Whigs in 1854, the Republicans dominated politics nationally and in the majority of northern states for most of the period between 1860 and 1932.
Home Page
Articles
Cartoons and Comic Strips

G.O.P. on Immigration
, by Tony Auth, The Philadelphia Inquirer, 3 Jan 2008
The introductory paragraph uses material from a Wikipedia article, which is released under the Creative Commons Attribution-Share-Alike License 3.0.