Forty-second President of the United States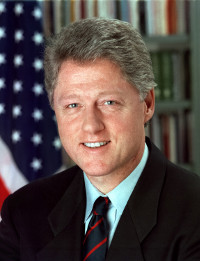 William Jefferson Clinton (born William Jefferson Blythe III; 19 August 1946) is an American politician who served as the 42nd President of the United States from 1993 to 2001. Prior to the presidency, he was the Governor of Arkansas from 1979 to 1981, and again from 1983 to 1992. A member of the Democratic Party, Clinton was ideologically a New Democrat and many of his policies reflected a centrist "Third Way" political philosophy.
The introductory paragraph uses material from the Wikipedia article "Bill Clinton" as of 4 Jun 2018, which is released under the Creative Commons Attribution-Share-Alike License 3.0.