Fourth Chief Justice of the United States Supreme Court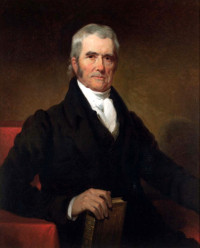 John Marshall (24 September 1755 – 6 July 1835) was an American politician and the fourth Chief Justice of the United States (1801–1835). His court opinions helped lay the basis for United States constitutional law and many say he made the Supreme Court of the United States a coequal branch of government along with the legislative and executive branches. Previously, Marshall had been a leader of the Federalist Party in Virginia and served in the United States House of Representatives from 1799 to 1800. He was Secretary of State under President John Adams from 1800 to 1801 and, at the age of 45, became the last of the chief justices to be born in Colonial America.
The introductory paragraph uses material from the Wikipedia article "John Marshall" as of 1 May 2018, which is released under the Creative Commons Attribution-Share-Alike License 3.0.