18th century English jurist, author of Commentaries on the Laws of England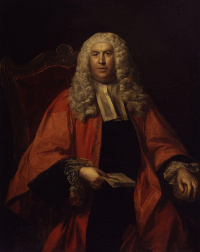 Sir William Blackstone SL KC (10 July 1723 – 14 February 1780) was an English jurist, judge and Tory politician of the eighteenth century. He is most noted for writing the Commentaries on the Laws of England. Born into a middle-class family in London, Blackstone was educated at Charterhouse School before matriculating at Pembroke College, Oxford in 1738. After switching to and completing a Bachelor of Civil Law degree, he was made a Fellow of All Souls, Oxford on 2 November 1743, admitted to Middle Temple and called to the Bar there in 1746. Following a slow start to his career as a barrister, Blackstone became heavily involved in university administration, becoming accountant, treasurer and bursar on 28 November 1746 and Senior Bursar in 1750. Blackstone is considered responsible for completing the Codrington Library and Warton Building, and simplifying the complex accounting system used by the college. On 3 July 1753 he formally gave up his practice as a barrister and instead embarked on a series of lectures on English law, the first of their kind. These were massively successful, earning him a total of £453 (£65,000 in 2018 terms), and led to the publication of An Analysis of the Laws of England in 1756, which repeatedly sold out and was used to preface his later works.
The introductory paragraph uses material from the Wikipedia article "William Blackstone" as of 14 Mar 2018, which is released under the Creative Commons Attribution-Share-Alike License 3.0.