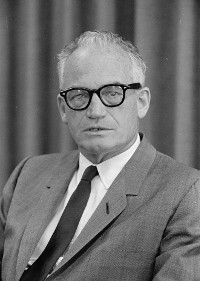 Barry Morris Goldwater (2 January 1909 – 29 May 1998) was an American politician, businessman and author who was a five-term United States Senator from Arizona (1953-65, 1969-87) and the Republican Party's nominee for President of the United States in 1964. Despite his loss of the 1964 presidential election in a landslide, Goldwater is the politician most often credited for sparking the resurgence of the American conservative political movement in the 1960s.
Goldwater was a vocal opponent of the Civil Rights Act of 1964; he believed it was an overreach by the federal government. Goldwater rejected the legacy of the New Deal and fought with the conservative coalition against the New Deal coalition. He also had a substantial impact on the libertarian movement. A significant accomplishment in his career was the passage of the Goldwater-Nichols Act of 1986.
In 1964, Goldwater mobilized a large conservative constituency to win the hard-fought Republican primaries. Though raised as an Episcopalian, Goldwater was the first candidate of ethnically Jewish heritage to be nominated for President by a major American party (his father was Jewish). Goldwater's platform ultimately failed to gain the support of the electorate, and he lost the 1964 presidential election to incumbent Democrat Lyndon B. Johnson.
Goldwater returned to the Senate in 1969 and specialized in defense policy. In 1974, as an elder statesman of the party, Goldwater successfully urged President Richard Nixon to resign when evidence of a cover-up in the Watergate scandal became overwhelming and impeachment was imminent. In the 1980s, Goldwater became a vocal opponent of the Christian right and its influence on the Republican Party on issues such as abortion, gay rights and the role of religion in public life.
This article uses material from the Wikipedia article "Barry Goldwater" as of 07 Aug 2018, which is released under the Creative Commons Attribution-Share-Alike License 3.0.