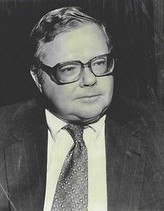 Roger Lea MacBride (6 August 1929 – 5 March 1995) was an American lawyer, political figure, writer and television producer. He was the presidential nominee of the Libertarian Party in the 1976 election. MacBride became the first presidential elector in U.S. history to cast a vote for a woman when, in the presidential election of 1972, he voted for the Libertarian Party candidates John Hospers for president and Theodora "Tonie" Nathan for vice president.
He was co-creator and co-producer of the television series Little House on the Prairie.
This article uses material from the Wikipedia article "Roger MacBride" as of 22 Jun 2018, which is released under the Creative Commons Attribution-Share-Alike License 3.0.