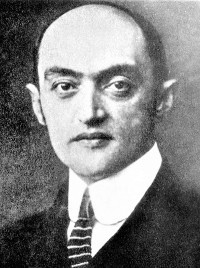 Joseph Alois Schumpeter (8 February 1883 – 8 January 1950) was an Austrian political economist. Born in Austria, he briefly served as Finance Minister of Austria in 1919. In 1932, he became a professor at Harvard University where he remained until the end of his career, eventually obtaining U.S. citizenship. One of the most influential economists of the 20th century, Schumpeter popularized the term "creative destruction" in economics.
Schumpeter claimed that he had set himself three goals in life: to be the greatest economist in the world, to be the best horseman in all of Austria and the greatest lover in all of Vienna. He said he had reached two of his goals, but he never said which two, although he is reported to have said that there were too many fine horsemen in Austria for him to succeed in all his aspirations.
This article uses material from the Wikipedia article "Joseph Schumpeter" as of 24 Jul 2018, which is released under the Creative Commons Attribution-Share-Alike License 3.0.